Product Information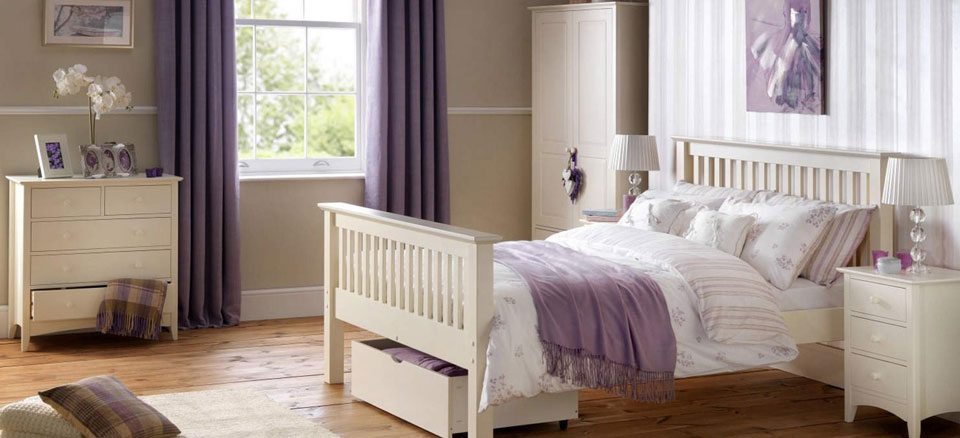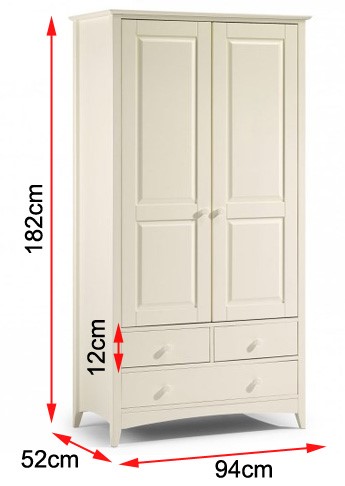 DIMENSIONS: H182 x W94 x D52 cm
SMALL DRAWERS: H12 x W94 x D52 cm
HANGING SPACE: H95 x W94 x D52 cm
INTERIOR TOP SHELF: H29 x W94 x D52 cm
FEATURES:
Versatile design, coordinates with many decors
Modern twist to a traditional shaker style
Subtle stone (off white) lacquered finish
Strong MDF construction
1 Full length drawer
2 Smaller drawers
Interior top shelf and hanging rail
Part of the Cameo range
HOW BIG AM I?
The Cameo wardrobe is a combination wardrobe, it has lots of storage options to offer. Ideal for organising your wardrobe. The double doors reveal a full length hanging rail with an interior top shelf, which is ideal for accessories or larger folded items such as jumpers. The base of the wardrobe houses three drawers, ideal bonus storage for folded pieces. With a flat surface top you can even utilise the top of the wardrobe with storage boxes.
HOW DO I LOOK?
A modern twist on a traditional shaker style. The Cameo combination wardrobe introduces a soft touch to your space with its delicate off white finish. Clean lines combine with elegant sloped legs to create a versatile design with a feminine touch. A great choice for all spaces as the neutral appearance of the Cameo wardrobe compliments a variety of room decors.
WHAT AM I MADE OF?
Constructed from MDF this combination wardrobe is strong and sturdy. The off white finish is a smooth lacquer, enhancing the durability of the wardrobe.
TREAT ME RIGHT
Simply wipe over now and again to maintain a pristine dust free finish. When moving your wardrobe it is you advised lift, rather than pushing or pulling, to avoid incurring any accidental structural damage.
HOW EASY AM I TO PUT TOGETHER?
This wardrobe will be delivered flat packed and self-assembly will be required. The instructions are simple and easy to follow. As this is a large item we would recommend two people for safer and quicker assembly.
Item Code:
FOL052489