Product Information
Add some glitz and glamour to your room with the Monroe dining chairs.
Dimensions:
H95 x W44.5 x D52 cm / H37.4 x W17.5 x D20.4 Inches
Quick feature summary:
Pair of chairs
Glamorous style
White faux leather finish
Tall scroll chair back
Crystal detailing
Padded seat
How big am I?
Supplied as a pair the Monroe dining chairs can be used in almost any setting. Use at the dining table, study or bedroom. With a tall scroll back the Monroe chairs give you great back support for a more comfortable sit.
How do I look?
The Monroe dining chairs are all about the glitz and glamour. Add an instant sparkle to your space with these chairs. The tall scroll backs feature five large crystals embedded in to the back so they will not affect the comfort of these chairs. Finished in white faux leather these chairs are bold, making an instant stylish statement in your room.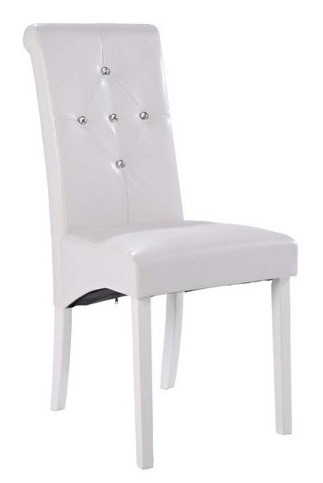 What am I made of?
These chairs have a strong wooden frame finished with a smooth white faux leather. Embellished with large diamante crystals for added bling!
Treat me right
As the Monroe chairs have a faux leather finish they are easy to wipe clean, so there's no need to worry about spillages whilst at the dining table.
How easy am I to put together?
Assembly is required for these chairs however it should be fairly minimal and not too time consuming.
Item Code:
FOL077995