Product Information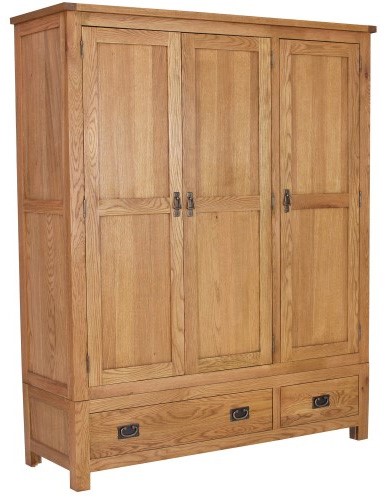 Good storage is really essential, but finding the right peices can sometimes be hard. The 3 door, 2 drawer wardrobe from the rustic Saxon oak range is the ideal solution for bedrooms where storage space is in high demand.
Dimensions: H180 x W150 x D55 cm
Large Drawer: H15 x W83.3 x D39.3 cm
Small Drawer: H15 x W40.3 x D39.3 cm
Features:
Rustic design
Ideal bedroom storage solution
Solid oak construction with solid oak veneers
Three door wardrobe
Hanging space behind all doors
2 drawers for additional storage
Distressed iron handles finish off the rustic look of this item
Variety of coordinating products available
Assembly required
How big am I?
The 3 door, 2 drawer wardrobe from the rustic Saxon oak range is the ideal storage solution for your bedroom. This wardrobe is designed to be the perfect size for all of your clothee. With a full length wooden hanging rail behind the double doors and plenty of additional space for larger pieces or occasional wear on the rail behind the single door. There is also the addition of two storage drawers, one large and one smaller for any other items.
How do I look?
Designed in a rustic style, this three door wardrobe would look right at home in a quaint country-cottage, allowing you to easily recreate this look in your own home. The Saxon 3 door, 2 drawer wardrobe in warm honey oak provides a perfect homey feeling in your bedroom. Complete the look with other items from the rustic Saxon range for a classic,country feel.
What am I made of?
The rustic Saxon 3 door, 2 drawer wardrobe is made from solid oak, with solid oak veneers. This is an incredibly sturdy item, ideal for any bedroom. The back board, drawer bases and internal shelves are made from an equally strong, thick ply wood. The look is completed with the distressed iron handles.
Treat me right
Maintaining your new wardrobe couldnt be simpler. Just wipe down your wardrobe with a duster and for more stubborn marks a damp cloth will do the job. We would usually advise against the use of expensive household cleaners or abrasives as over time these can damage the look of your furniture, causing it to fade.
How easy am I to put together?
This item will be delivered flat-packed and will require some simple self-assembly. As with all of our flat-pack furniture we recommend that you ask a friend to give you a hand. Simply follow the step-by-step instructions and you will have your new wardrobe built in no time at all. We would also recommend that you assemble your wardrobe as close to its final position as possible, as moving this item when fully assembled may be tricky.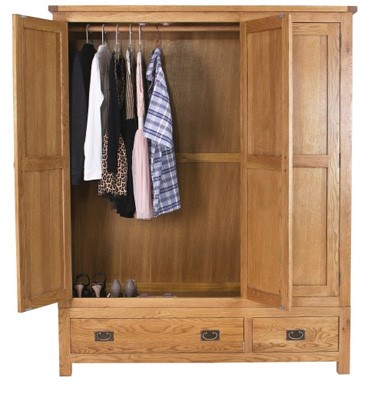 Item Code:
SAX006