No chimney or wood chopping required, simply sit back, relax and enjoy the warmth and inviting ambience of an electric fireplace. They're much more cost effective and efficient than any other fireplace, plus they're fuss free. Whether you're shopping for a cosy and traditional style or a sleek and modern feature piece, we have a wide range to suit all tastes and plenty of options to suit your home's layout.
Style of Fireplaces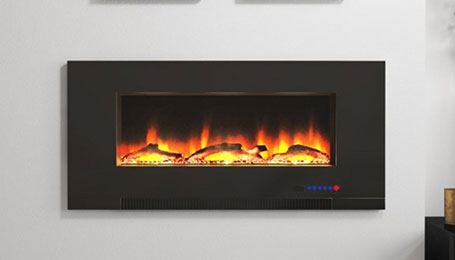 Wall mounted fireplaces tend to produce a more contemporary look. They're ideal for saving space as they fit to the wall using brackets, which are generally included with the fireplace. As they don't require any permanent installation, you'll be able to take them with you if you decide to move house. There are two types, the first fixes straight to the wall and is the easiest to install, and the second is recessed in to the wall for a seamless finish.Shop wall mounted fireplaces »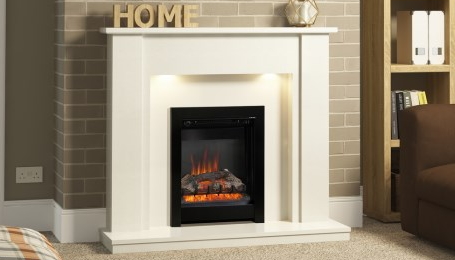 Inset fires fit into a cavity in the wall or into an existing fireplace cavity, replacing an old gas or wood burning fire. Usually a fire surround is fitted around the fire to make it into a feature. All the wires and technical bits are hidden behind the fire within the cavity for a seamless finish.Shop inset fireplaces »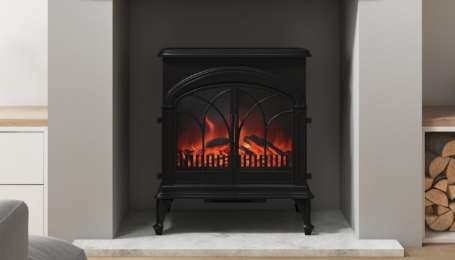 Stoves tend to have a more traditional style, bringing a cosy look to the home. They are freestanding and one of the easiest options to install as they generally plug straight into an electrical socket. They can be positioned on a pedestal, within an unused or sealed fireplace, against a wall or paired with a fire surround. Shop stoves »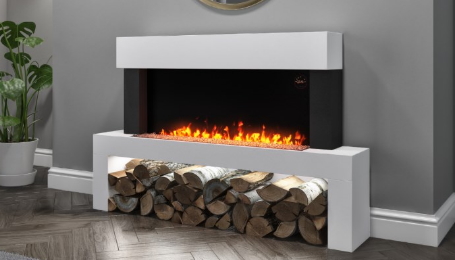 Fireplace suites include the fire, back panel, surround and hearth, providing the full and finished look. They are easy to install as they don't need to be placed within a cavity, they can be fitted straight on to a flat wall. There's a wide variety of designs to choose from to suit all different décor styles. Shop fireplace suites »
Heater type
These heaters use a fan to pass air over heated coils inside. They are quick at heating small areas, however it may take a while to feel the heat the further away you are from the fire. They also tend to be the loudest type of fire.
Generating heat using ceramic plates, these fires provide instant heat and cool down faster when switched off. They are fast at heating small areas and are generally a more energy efficient option.
Fires that use quartz heaters create instant heat and they can hold heat for some time after they are switched off. They are ideal for heating small areas and entire rooms. They tend to be the most expensive option, however they can save you money on your energy bills in the long run.
Fires which use convector heaters will heat a room much faster and are more suitable for large areas. They draw cool air in which is then diffused back in to the room once heated. They are highly effective a nd quieter than fires using fans.
Fuel bed type
Coal and log fuel beds tend to be very popular as they create the most realistic effect. They give a warm and traditional style, perfect for a cosy winter night. Often the fuel bed is one moulded unit, however loose coals can also be found, enabling you to arrange the coals as you like.
Pebbles, crystals and glass give a more contemporary look, they tend to be found in more modern styled fireplaces, especially wall mounted designs. As they are lose you can arrange them as you like.
Some fireplaces may feature an interchangeable fuel bed. They are generally supplied with both, which may be a traditional style and a contemporary style, so you can change them as and when you like for a different look.
Flame effect type
Air is blown in to strips of ribbon which creates a wave or dancing effect, simulating a real fire. There will also be an amplified bulb below which casts a warm glow.
A light bulb is hidden beneath the fuel bed which creates an ambient glow with scatters of light peeking through. Often this effect is found on fires with lose fuel beds, enabling you to slightly modify the glow by arranging the fuel bed.
LED lights are used alongside a rotating mirror to achieve a realistic flame effect. LED lights have an incredibly long life span, meaning you may never have to replace them.
The higher the kilo-watt rating on a fireplace the better the heating performance will be. Consider your room size when choosing a fireplace, keep in mind 1 kilo-watt will effectively heat 100 square feet.
Some fireplaces have discreet button and switch controls to the side or rear of the unit. Others can have touch buttons on the front which dim once inactive, these can be easy to use whilst adding a modern touch. There are also fireplaces which include a remote control, giving you control of the flames and heat from the comfort of your sofa.
Sleep timers can help you save energy by switching the fire off after a certain period of time. They also come in handy in case you fall asleep or forget to switch the fire off after you leave the room.
A fire with an adjustable thermostat enables you to choose the rate at which heat is released in to your space.
Some fireplaces may have a variety of flame settings for you to choose from, this can include the speed of the flames and backlight colour. Often there will be a flame only setting, enabling you to enjoy the ambient glow of a fire all year round without the heat.
Before choosing your fireplace, think carefully about the space you have available and also what is in the surrounding area. Some fireplaces are not suitable to sit below a TV when wall mounted and others may need to be placed on a platform. Your chosen fireplace will come with its own installation instructions as installation varies depending on the model. Generally they will plug straight into an electrical wall socket, just like a TV. It's best not to use an extension cord as this could overheat the system.
Do you need to vent an electric fireplace?
No, that's the beauty of an electric fireplace, no vent, chimney or flue is required.
How much space do electric fireplaces heat?
It all depends on the particular fireplace, on average they can heat from 400 sq ft to 1000 sq ft. They are ideal for heating areas of the home rather than the entire home which can help you save money on your energy bills.
Are electric fireplaces safe?
They are the safest choice when it comes to a fireplace. The fireplace itself does not become hot, only the vents where heat is released from become warm, making it safer to the touch. An electric fireplace is ideal for homes with pets and young children.
Can you install an electric fireplace under a TV?
It all depends on the fireplace. Many may require at least a 12 inch gap between the fireplace and the TV mounted on the wall above. The easiest solution is to choose a fireplace which has the heat vents located on the bottom or at the front, not at the top of the fireplace.
Are electric fireplaces expensive to run?
Running an electric fire is not as costly as you may think. They can save you money as they heat the area you are in rather than the entire home, so you are less likely to use your central heating as frequently. You also won't need to pay for servicing for an electric fire, plus they are much cheaper to install. Using the flame effect only on the fire rather than the heat will also save you money. On average 1kWh of electricity costs just under 15p, so think of it like this, running a fireplace on the 1kWh setting for an hour will cost around 15p, running a fire with a 2kWh setting for an hour will cost around 30p.