Product Information
Do you ever get the feeling that technology might be taking over your life….and your living room!? Want to organise messy wires and hide away games consoles, whilst at the same time creating a stylish hub to house all of your media and games consoles? If the answer to all of those questions is yes then you need the Skylight Electra TV unit in high-gloss white!
DIMENSIONS: H45 x W220 x D50 cm
FEATURES:
Modern desin, instant focal point
Easy to clean, smooth high-gloss white finish
Incredibly versatile
Perfect height for optimum TV viewing
Plenty of space for all of your media
Concealed storage space with 2 downwards opening cupboards
Shelf behind each door
Interchangable door front strips, chrome or wood
Atmospheric lighting strips underneath unit top
Holes for neat and tidy cable managment
Self-assmebly required
Also available in black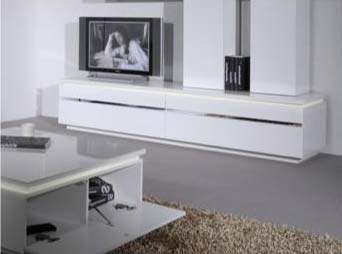 HOW BIG AM I?
This low-lying, sturdy TV cabinet is designed to support most TV's and is the ideal height for comfortable TV viewing. The unit features compact shelving behind downwards facing drawers, providing you with all of the space you need to store all of your media and games consoles.
HOW DO I LOOK?
This modern TV cabinet features a simple shape with clean lines and a high gloss white finish. Making it beautifully contemporary and ideal for any home. The seamless nature of this design means that it will not dominate your living room, helping you maintain a clean and clutter free look. This unit also comes with an additional lighting feature, allowing you create perfect mood lighting for optimum TV viewing.
WHAT AM I MADE OF?
Like all of the products in the Electra range from Skylight, this TV Cabinet is made using a combination of woods to create a super strong and sturdy blend. This cabinet is then coated in a high-gloss white plastic veneer that isn't just incredibly stylish, it is very hard wearing and durable too.
HOW EASY AM I TO PUT TOGETHER?
It couldn't be easier to assemble your new TV unit. All you need to do is ask a friend to help you and follow the simple step-by-step instructions provided. It is so easy that there is no need for scary power tools, all you will need is a basic hammer and a Philips screwdriver and we estimate it should take you no more than an hour. Deciding how big a TV you want to buy is up to you!
Item Code:
FOL075042