Product Information
This item is as new. It is in excellent condition however the box has been opened.
For further information on Grading and Guarantees please see the description below.There is ONLY ONE of these items in stock and it is available for quick delivery.
This item is as new. It is in excellent condition however the box has been opened.
GRADE A1
FEATURES
Includes 2 chairs only
Contemporary and elegant design
Adds instant style to your dining space
Luxurious silver velevet upholstered finish
Curvaceous polished stainless steel legs
Supportive tall chair backs with roll top design
Coordinating Louis dining pieces also available
DIMENSIONS:
W46 x D58 x H102 cm
CONTEMPORARY ELEGANCE
The Louis silver dining chairs are sold in pairs, enabling you to purchase as many or as little as you need to fit your dining table and space.
The pair of dining chairs have a unique look, an elegant design with a contemporary twist, perfect for the modern dining space whilst still adding a touch of sophistication.
The upholstered silver velvet finish adds a luxurious shine to the chairs whilst the shapely chair legs bring a hint of opulence with their curvaceous look and shiny metal finish.
COMFORTABLE DINING
The elegant design of the chairs offer a comfortable sit, with a tall supportive chair back featuring roll top detailing and a padded finished in sophisticated silver velvet.
The seat pads have been heavily padded to offer a comfortable dining experience whilst the velvet finish is soft to the touch.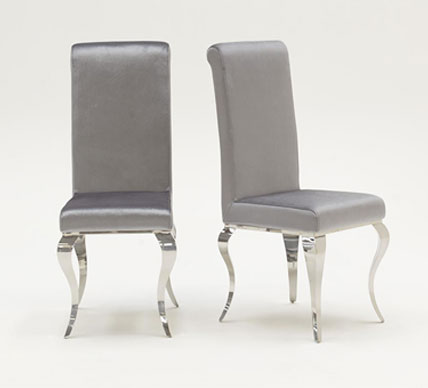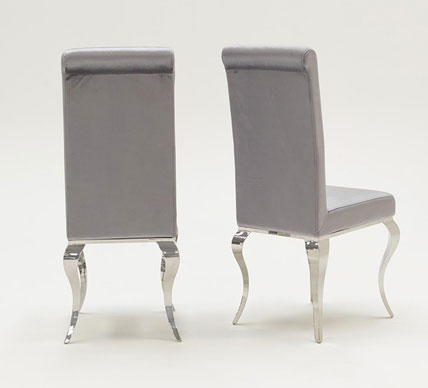 MADE TO LAST
With a combination of polished stainless steel and soft velvet, you know that the Louis dining chairs have been designed and made to last, truly worth the stylish investment.
The stainless steel frame can easily be wiped clean, whilst the velvet seats may need a little extra care. In the event of spills and marks it is best to dab the stain straight away with a clean dry cloth, try to avoid harsh chemical cleaners.
ASSEMBLY REQUIRED
The Louis dining chairs will be delivered flat packed to ensure you get them through your doors and into the room of your choice. Self-assembly is required and can be managed by one person.
Item Code:
A1/Lui-111-SL
Grade A1
This product is as close to brand new as you can get! The box was simply opened and then the product was returned to us so we discounted the price a little. The item is in full working order and in mint condition! Fancy shopping our most popular categories for some Grade A1 items? Check out the link below: