Product Information
GRILLED AND SMOKED TO PERFECTION
FLAVOURSOME FOOD INFUSED WITH FLAVOUR
COOK 12 BURGERS & 20 SAUSAGES AT ONCE
SPACIOUS COOKING AREA, EASILY CATER FOR LARGE PARTIES
TEMPERATURE GAUGE TAKES THE GUESSWORK OUT OF COOKING
COOK WITH CHARCOAL OR WOOD FOR YOUR PREFERRED TASTE
IMPRESSIVE, MOUTH-WATERING RESULTS
Don't just grill food, infuse it and serve up something special with this superb smoker barbecue. Intensify flavours and plate up tender results that are sure to impress guests. With this unique barrel barbecue you can direct grill cook and indirectly smoke cook. Achieve impressive results with an authentic smoky taste. The large cooking chamber enables you to easily serve up a feast for family, friends and neighbours.


SPACIOUS COOKING
The main chamber of the smoker barbecue is highly versatile. Use it just like a traditional charcoal barbecue and grill up all your favourites. With a spacious cooking area and a warming rack you can easily grill up a feast for family and friends.
This spacious barrel main chamber can also be used for indirect smoke cooking. Fuel is added to the side chamber rather than underneath the main grill. Plenty of space to smoke a large rack of ribs with a tender, flavoursome outcome.
In front of the main chamber is a highly practical wooden table, ideal for food preparation, utensil storage and serving up your tasty food.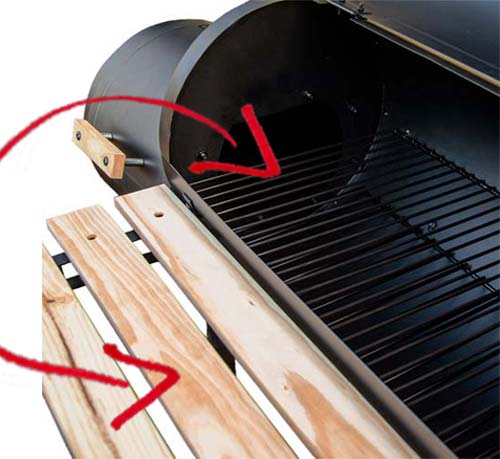 INFUSED WITH FLAVOUR
The barbecues side chamber is where the magic happens. This is where all the fuel goes when smoking food in the main chamber. Fill this chamber with charcoal and wood chips of your choice. Experiment with flavours using different types of wood chips such as hickory, apple, cherry or oak.
The smoke from the side chamber is pulled through to the main chamber for indirect smoke cooking. Although smoke cooking takes longer it's definitely worth the wait, just like a slow cooker in your kitchen. Smoking produces authentic smoky tastes and tender meats. This chamber can also be used as extra grilling space.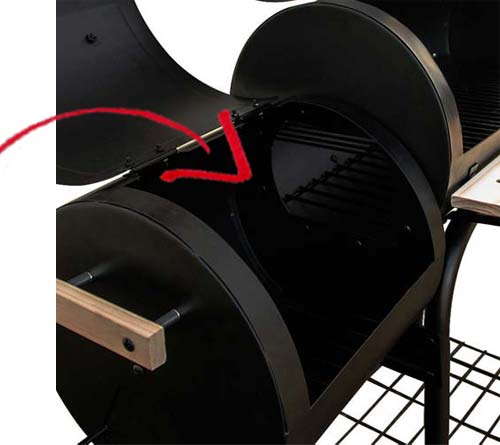 GREATER COOKING CONTROL
Take control and create the perfect cooking conditions for your dish. An integrated temperature gauge eliminates the guesswork from cooking, letting you know when the barbecue has reached the desired temperature for your chosen dish.
The side chamber features an air vent, which alongside the chimney gives you more control over temperature. By adjusting the chimney you also have more control over the smoke levels inside the main chamber.
It won't take long to reach optimised temperatures thanks to the chamber hoods, which also protect your food from the outdoors.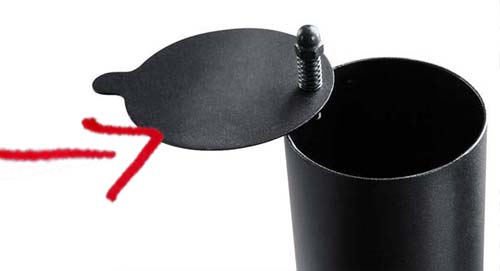 The pack includes three utensils (fork, spatula and tongs) and a PVC barbecue cover, ideal for storing during the colder months. With a durable stainless steel trolley and wheels the iQ smoker barbecue is super easy to move and store away.
To keep your barbecue in tip top condition we would advise the use of the included cover and to store the barbecue in a dry storage space.
Dimensions: H107 x W109 x D52 cm
Cooking Area: W30.6 x D26.3 cm
Features:
Cook up flavoursome food with that authentic smoked taste
Direct grill cooking and indirect smoke cooking
Smoking chamber, grill and smoke food separately
Smoking chamber pushes smoke through to the main chamber
Adjustable vent on side smoking chamber to control temperature
Spacious cooking area, easily cater for large parties
Cook up to 12 burgers & 20 sausages at once
Integrated thermometer for precision cooking
Vented chimney to control smoke
Warming rack to keep a constant flow of food
Front stand, preparation and serving convenience
Base storage shelf, ideal for supplies and cookware
Free accessory pack includes BBQ cover & utensil set
Durable steel construction with 2 wheels for manoeuvrability
Suitable for charcoal and wood
Item Code:
IQBQCSMOKER