Product Information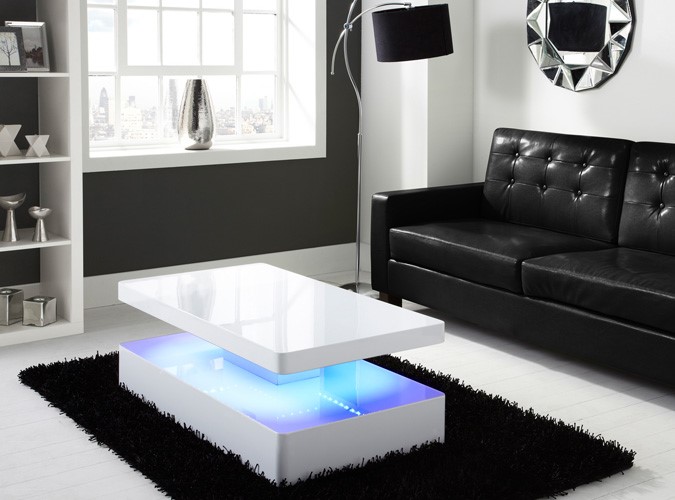 A true show stopper, this ultra-modern coffee table will take pride of place in your living room. Illuminating multiple colours you can create the ambiance of your choice and have a focal point everyone will stop and admire.
Quick feature summary:
Modern unique design
LED lit under shelf
4 Lighting colours to set the mood
Remote control for lighting included
Lights power from a rechargeable battery pack
Hidden castors for easy movement
Sleek, fresh white high gloss finish
Dimensions:
H39 x W110 x D60 cm
How big am I?
This rectangular coffee table sits beautifully central in your space. With a low design it is ideal for your living room essentials, keeping them within easy reach. There are two layers of surface space giving you plenty of storage. Sitting upon hidden castors you can easily reposition your coffee table to suit your needs.
How do I look?
With a simplistic design the main feature of this modern table is showcased beautifully. It's all about the lighting. With a lit under shelf you can create an ambiance of your choice effortlessly. The smooth high gloss finish in crisp white compliments the LED lighting and enhances the beautiful glow.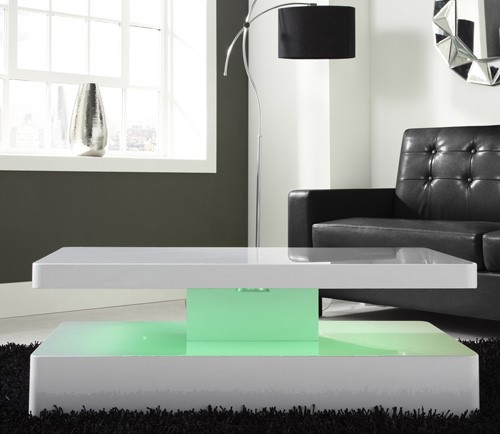 What am I made of?
Constructed from a strong wood combination with a smooth coating of high gloss lacquer in crisp white. The table has hidden metal castors for easy movement.
Treat me right
Thanks to the smooth and sleek nature of the high gloss lacquer finish this table is super easy to wipe clean. Add a hint of polish every so often to bring out your tables natural shine.
How my lights work
The top layer of the coffee table has an LED lighting strip underneath which lets out a beautiful glow, this glow reflects fabulously on the lower shelf and within your room with help from the sleek finish of the table. There are four colours to choose from; red, blue, green and lilac, each helping to create a different ambiance. Effortlessly change the colour with a simple push of a button from the included remote control. There's no need to worry about wires traipsing across your living room as the lights are powered from a rechargeable battery pack.
How easy am I to put together?
This table will require self-assembly. Assembly is manageable by one person and with the help of the step by step instructions it shouldn't be long before you're whizzing through the lighting options to select your favourite!
Item Code:
TIFF007