Product Information
Hide away your shoes discreetly and in style! Swivel round this full length mirror to reveal your hidden shoe collection!
Dimensions:
H195 x W50 x D18 cm
Features:
Slim, practical design
Fresh, neutral style
Rotating, hide away storage solution
Disguised as a full length mirror, enhancing practicality
5 Storage shelves, each holding 3 pairs
Ideal top shelf for smaller items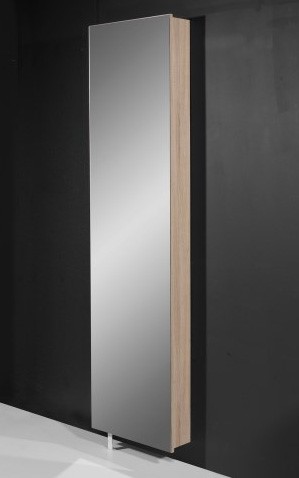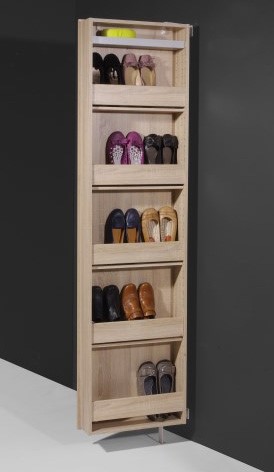 How big am I?
This stylish shoe storage solution has a slim design which fits against the wall perfectly. You would barely notice it was anything but a mirror! Spin the mirror round to reveal five shelves holding three pairs of shoes each, ideal for your favourites. There's a top shelf which is designed for those little essentials you need to grab in a hurry. If you don't fancy it for your shoes you could use it as a bathroom cabinet!
How do I look?
Tall and slim this storage solution blends perfectly in to the home, disguised as a full length mirror. Finished in light oak this unit has a fresh, neutral look giving it great versatility, allowing you to fit it in to a variety of different decors.
What am I made of?
Made from strong MDF and finished with a light oak effect this cabinet has a highly durable frame. The front of the cabinet is finished with a full length mirror. The cabinet swivels upon a strong, white metal foot.
How easy am I to put together?
Delivered flat packed for your convenience this cabinet does require self-assembly. As this item is quite tall we would advise the help of another for safe and easier construction.
Item Code:
1189-156