Product Information
Exuding quality and style with its chunky and timeless design the Lyon walnut large TV cabinet is a beautiful and practical addition to your living room.
FEATURES:
Elegant and sumptuous design
Timeless style
Crafted from solid oak
Finished with deep walnut veneers
Spacious surface top
2 Practical open shelves
2 Cupboards, give great concealed storage
Supplied with both metal & wooden handles
Can hold a TV of up to 53 Inches
Coordinating items available
DIMENSIONS:
Overall: H60 x W135 x D48 cm
Internal of each cupboard: H34.5 x W40 x D45 cm
Top shelf: H17.5 x W45 x D45 cm
Bottom shelf: H17 x W45 x D45 cm
HOW BIG AM I?
The Lyon walnut large TV cabinet has a spacious surface top holding TV's of up to 53" without the sides of the TV overhanging the TV cabinet. This TV cabinet offers you a variety of storage options. Two open shelves are excellent for remote controlled media such as the DVD player. There are two end cupboards which give you great concealed storage, ideal for DVD's and games.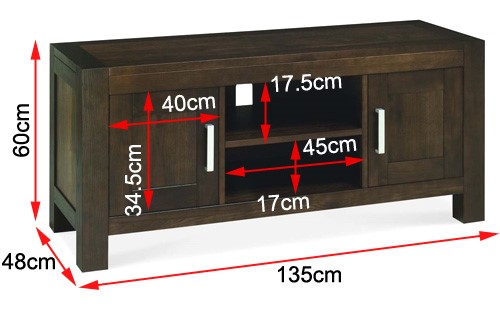 HOW DO I LOOK?
With a solid and chunky design this TV cabinet exudes the look and feel of quality. The deep walnut finish creates a sumptuous and elegant look, bringing a natural warmth to your space. Supplied with both metal handles and wooden handles you can change the aesthetic of your TV cabinet to suit a contemporary space or a more traditional space.
WHAT AM I MADE OF?
Crafted from solid oak this TV cabinet is solid and sturdy. Finished with deep walnut veneers the cabinet is smooth and durable. Supplied with two sets of handles, metal or solid oak.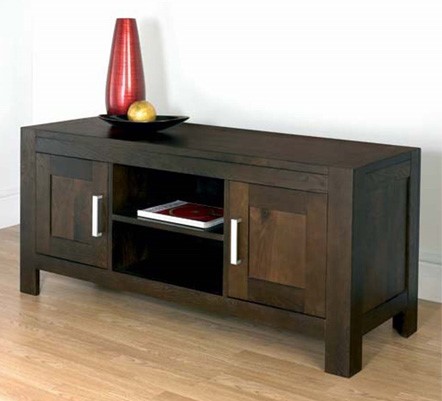 TREAT ME RIGHT
It's very easy to take care of your Lyon walnut large TV cabinet. Simply wipe over with a duster or dry cloth to maintain a dust free finish. For tougher marks try a damp cloth before resorting to chemical cleaners. When moving your new piece of furniture it is best to lift rather than push or pull your new item to avoid damaging the structure.
HOW EASY AM I TO PUT TOGETHER?
This TV cabinet does require self-assembly. As this a fairly large item for safer and quicker assembly we would advise two people, however it is still possible for one person to assemble this item.
Item Code:
FOL055314